基于自然观察节的经验,山水、社区、当地政府以及其他自然保护爱好者开始不约而同地形成一些想法——希望摸索一种模式,能够将物种保护、社区发展、公众参与、政府管理等多方面的诉求整合在一起。此后,昂赛当地社区合作社在山水自然保护中心和当地政府的支持下,开展了自然体验活动,由当地牧民担任自然体验向导和接待家庭,带领自然体验者在这里观看雪豹等珍稀野生动物、欣赏自然和文化景观、体验牧区生活。
2018年起至2020年,合作社和山水自然保护中心合作,对选拔出的21户自然体验接待家庭开展了7次集中向导培训,并分别对每户家庭进行烹饪技能、接待服务、卫生与医疗常识等方面的入户培训。
With the experience of Nature Watch Festival, Shan Shui, the community, local government and other nature conservation enthusiasts began to form some ideas -- they hoped to figure out a model that could integrate the demand of species conservation, community development, public participation and government management. Since then, the local community cooperative of Angsai, with the support of Shan Shui Conservation Center and local government, has launched a series of nature watch activities, with local herders serving as nature watch guides and host families and leading nature watch participates to view rare wildlife such as snow leopards, enjoy the natural and cultural landscape, and experience pastoral life.
From 2018 to 2020, the cooperative has worked with Shan Shui Conservation Center to conduct 7 comprehensive guide training sessions for 21 selected host families. These sessions include in-home training of cooking skills, hospitality services, and general health knowledge for each family respective.
此外,山水与社区多次协商,完成了包括合作社管理章程、自然体验者守则等在内的管理制度设计,以及三语自然观察手册、双语接待家庭手册、接待家庭资料等在内的自然体验项目产品设计,建立了昂赛自然体验项目宣传和预约网站"大猫谷"(valleyofthecats.org.cn)。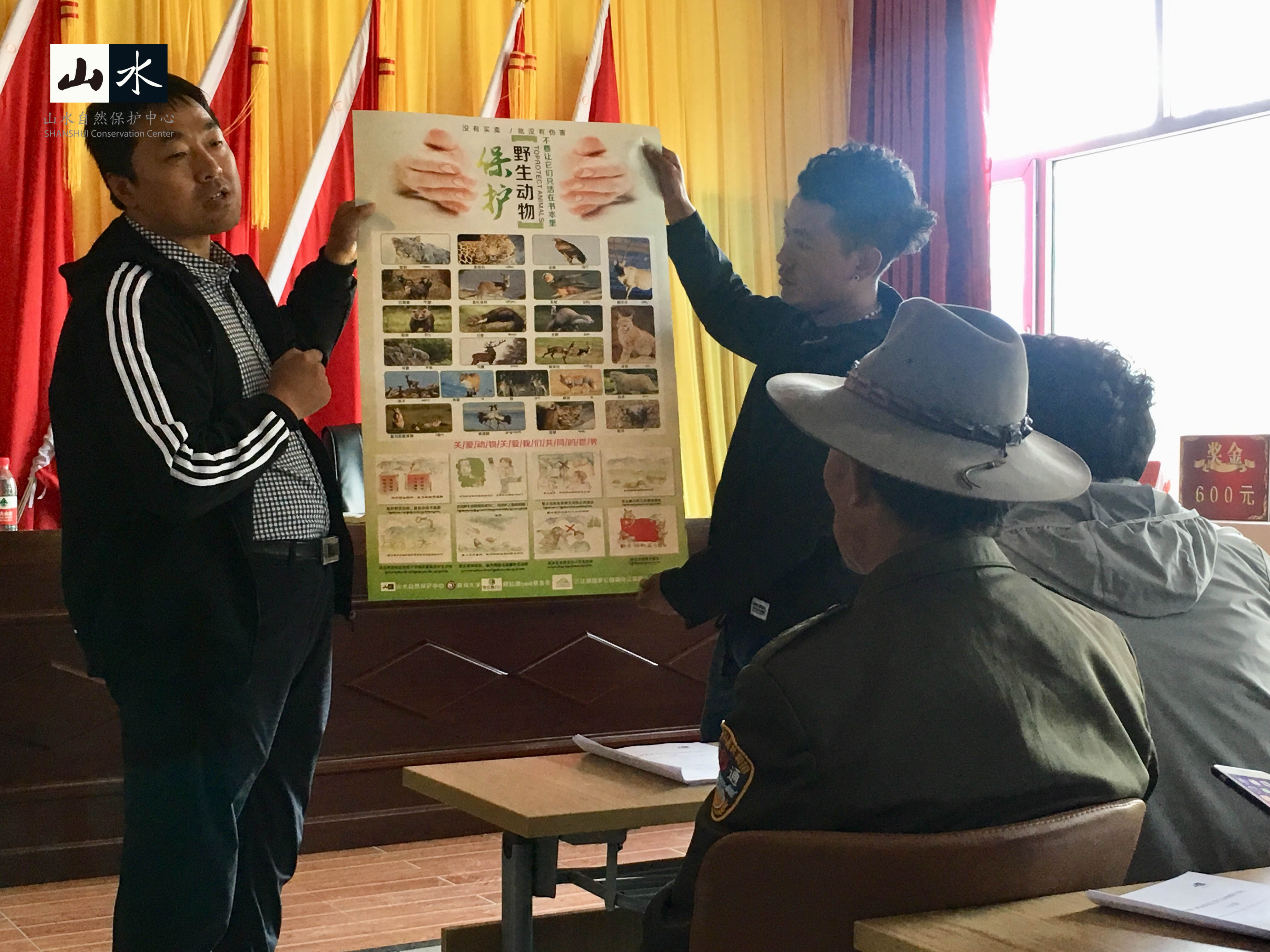 在此期间,山水也协助社区进行过数次会议,除了诸如选拔接待家庭、管理小组换届等较为重要的决策,更多情况下是对管理和接待细节方面的讨论,其中不免有意见的争执和反复,但就是在一次次的调整和变动中,社区成员也在越来越多地参与其中,在更为深入地了解和思考下,共同推动自然体验产品的不断完善。
Shan Shui has also discussed many times with the community to complete the design of the management mechanism, including the cooperative's management charter and the code for nature watch participants. It has also completed the design of a series of nature program products, including the trilingual manual, bilingual host family manual, and materials of host families and established the website "Valley of the Cats" for the promotion and reservation of Angsai nature watch program(valleyofthecats.org.cn).
At the same time, Shan Shui has assisted the community to hold several meetings. In addition to the more important decisions such as selecting host families, changing the term of management team, etc., it also helped with the discussion of details in aspects of management and hospitality. There were inevitably arguments and repetitions of opinions, but it was through these adjustments and changes that the community members became more involved, and promoted the constant improvement of nature watch program with a more in-depth understanding and thinking.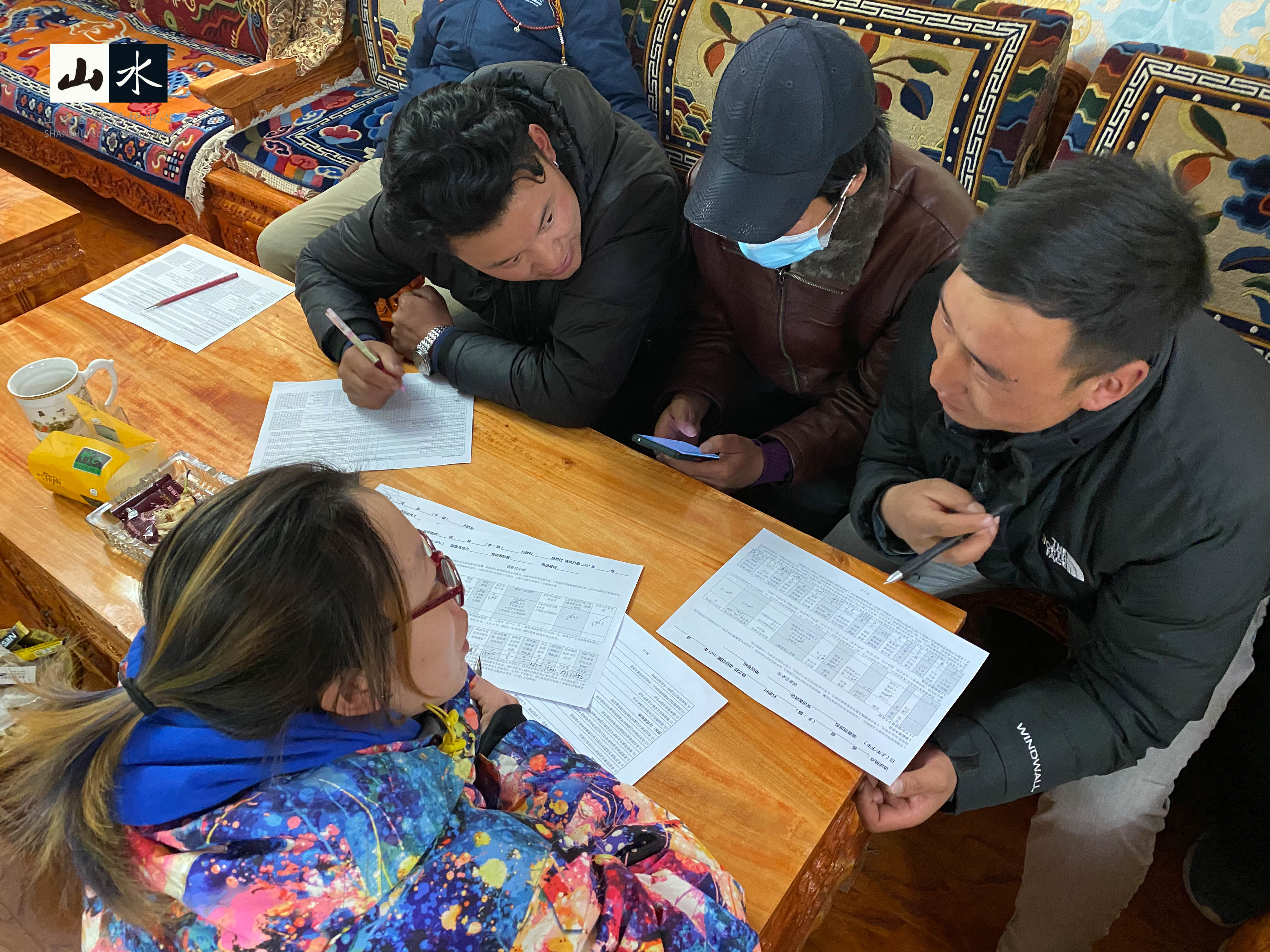 经过合作社全体社员的多次讨论与协商,昂赛自然体验于2018年底开始采取社区集体收益分配制度。项目现采取交通与向导费1000元/车/天,食宿费300元/人/晚的收费标准。在项目的全部收益中,45%为接待家庭所得,45%纳入社区基金,用于社区公共事务,10%用于昂赛区域的生态保护工作(例如建立社区野生动物保护基金)。
2018年项目开展至2021年,昂赛自然体验项目共接待了来自世界各地的169支自然体验团队,共计479人次,为社区带来逾173万元的总收益,其中社区公共基金约95万元,接待家庭平均增收约3.7万元。
After many discussions and negotiations with members of the cooperative, Angsai Nature Watch Program started to adopt a collective community revenue distribution system at the end of 2018. The current charging standard is 1,000 RMB/car/day for transportation and guide, and 300 RMB/person/night for food and accommodation. 45% of the total proceeds from the project will be earned by the host families, 45% incorporated into a community fund for public affairs, and 10% used for ecological conservation in the Angsai area (e.g. establishing a community wildlife conservation fund).
The program started in 2018. By 2021, the Angsai Nature Watch program has hosted 169 nature watch teams from around the world with a total of 479 visits, bringing in over 1.73 million RMB in total revenue to the community, including approximately 950,000 RMB in community fund and an average increase in income of 37,000 RMB for host families.