在正式开展自然体验试点项目前,昂赛乡举办了两届自然观察节。让全世界各地的自然观察爱好者们来到国家公园观察野生动物,也为国家公园的建设提供自己宝贵的意见。也正是这两届自然观察节让牧民们第一次体验到做向导的意义和职责。
2016年8月17日-22日,玉树州杂多县人民政府、三江源国家公园澜沧江源园区管委会、山水自然保护中心与北京大学自然保护与社会发展研究中心于青海杂多县昂赛乡举办了"首届澜沧江源国际自然观察节"。
Prior to the official launch of Nature Watch Pilot Project, two nature watch festivals were held in Angsai. Nature watch enthusiasts from all over the world came to the pilot national park to observe wildlife and also to provide their valuable input to the construction of the national park. These two nature watch festivals also allowed herders to experience for the first time the meaning and responsibility of being a guide.
From August 17-22, 2016, the People's Government of Zaduo County, Yushu Prefecture, the Management Committee of Lancang River Park in Sanjiangyuan National Park, Shan Shui Conservation Center and Peking University Center for Nature and Society jointly held the First Lancang River International Nature Watch Festival in Angsai, Zaduo County, Qinghai.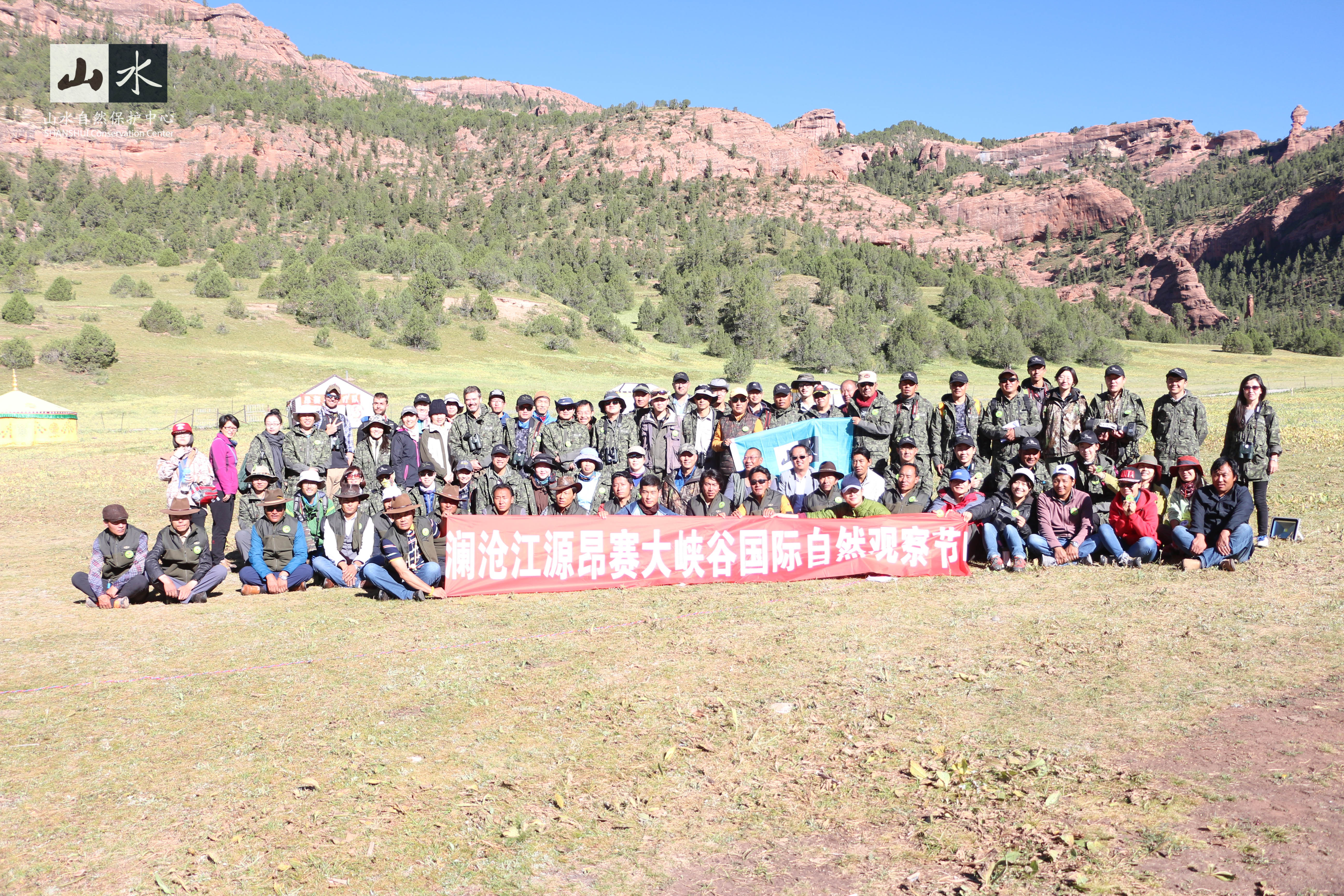 4天的时间,14个参赛队伍通过影像记录兽类、鸟类及植物等物种的类别与分布,帮助建立起昂赛澜沧江大峡谷的本底数据,经初步统计,共记录兽类10种、鸟类61种、植物93种。每个参赛队员收获颇丰的背后,还有我们看不见的推动。在以生物多样性认知和观赏为主要内容的自然体验模式下,本地社区得到了最大的参与和收益。
2018年7月21日至24日,昂赛举办了第二次国际自然观察节,期间来自中、美、英、法等国选手组成的20支参赛队伍参与其中。经统计,本次观察节影像记录到兽类13种、鸟类73种、植物315种以及两爬类4种。
Over the course of 4 days, 14 teams identified and recorded the distribution of animals, birds and plants through videos and images, helping to establish the baseline data of Angsai Lancang River Valley. Preliminary statistics showed that a total of 10 mammal species, 61 bird and 93 plant species were recorded. Behind the fruitful harvest of each participant, there was also invisible progress. The local community received the most participation and benefit from this nature watch model that focused on biodiversity awareness and viewing.
From July 21-24, 2018, Angsai held the Second International Nature Watch Festival. 20 teams from China, the United States, the United Kingdom, France, and other countries participated in this festival, during which 13 mammal species, 73 bird species, 315 plant species and 4 reptile species were recorded.