岩羊

Blue Sheep

(Pseudois nayaur)
分类:偶蹄目 牛科
保护级别: 国家二级
体型数据:头体长100-155cm,雄性50-80kg,雌性32-51kg
雪豹的口粮,在昂赛非常常见,成群出现,有时一群能达到200只。这里数量众多的岩羊种群为雪豹提供了丰富的食物来源。
岩羊是生活在雪线附近——主要是雪线下的食草动物。它们在陡峭的裸岩环境中行动敏捷,具有优异的跳跃和攀爬能力,其毛色在高山裸岩和流石滩生境中具有良好的伪装效果。正是因为这些本领,岩羊的活动区域才与其他的食草动物(白唇鹿、旱獭、高原兔、和鼠兔们)有了区别,占据了自己独有的生态位。
Classification: ARTIODACTYLA Bocidae
Protection Class:National Class II
Size: body length 100-155 cm, male weight 50-80 kg, female weight 32-51 kg
Blue sheep are preys of snow leopards and are very common in Angsai. They often occur in herds, sometimes up to 200 in a group. The large population of blue sheep here provides a rich source of food for snow leopards.
Blue sheep are herbivores that live near - and mainly below - the snow line. They are agile in steep bare rock environments, have excellent jumping and climbing abilities, and their coats provide good camouflage in alpine bare rock and screes. It is because of these skills that blue sheep distinguish their range from other herbivores (white-lipped deer, marmots, woolly hare, and pikas) and occupy their unique position in the ecological system.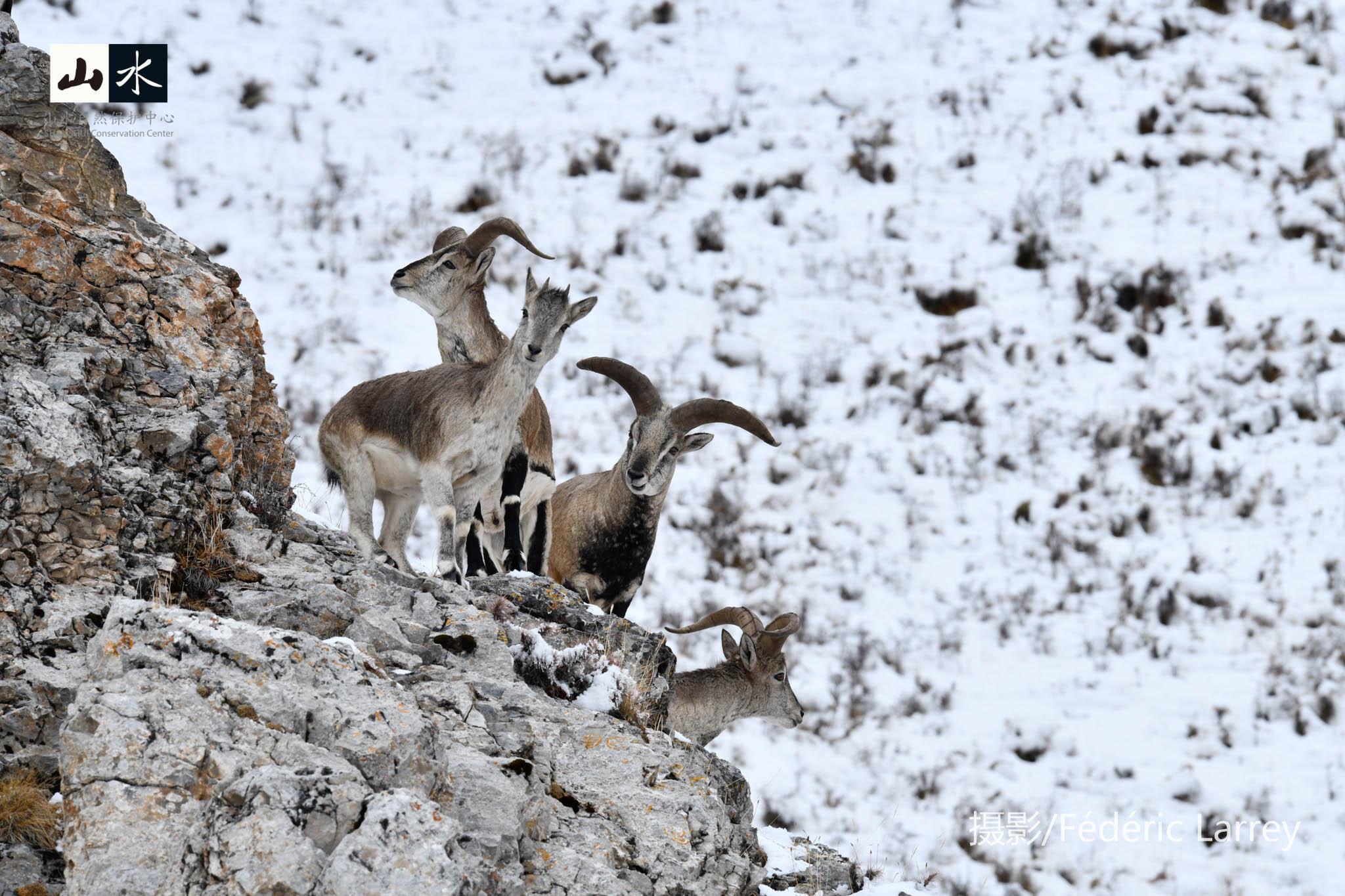 白唇

鹿White-lipped De

er

(Cervus albirostris)
分类:偶蹄目 ARTIODACTYLA 鹿科
保护级别:国家一级
体型数据:大型鹿类,头体长155-210cm,雄性体重180-230kg
白唇鹿是世界上分布海拔最高的鹿类,也是我国特有种,仅分布在青藏高原。它们具有标志性的白色唇部、鼻端和下颌,故得名白唇鹿。
白唇鹿在昂赛分布广泛,遇见率很高。它们除了常在峡谷两侧的山林中穿行外,亦会集大群在海拔较高的高山草甸休息取食。对于大部分有蹄类来说,发情期并不在春天,往往是秋冬发情,春夏产崽的,白唇鹿也不例外。盛夏时节,鹿角刚刚长大,可以看到尚未骨化脱茸白色鹿角。到了秋冬,鹿角慢慢骨化脱茸,刚好在发情期打架时派上用场。每年的春天,公鹿和母鹿会分群,母鹿去产仔,而公鹿的角也在这个时期掉落。
Classification: ARTIODACTYLA Cervidae
Protection Class:National Class I
Size: body length 155-210 cm, male weight 180-230 kg
The white-lipped deer is the deer species that lives at the highest-altitude in the world and is endemic to China, and is distributed only on the Qinghai-Tibet Plateau. White-lipped deer have the iconic white lips, snout and lower jaw, which is where the name comes from.
White-lipped deer are widely distributed in Angsai and have a high sighting rate. In addition to traversing the forests on both sides of the river, they also rest in large groups in high mountain meadows at higher elevations to feed. For most hoofed species, the rut is not in the spring, but in the fall and winter. They will then give birth in the spring and summer, and the white-lipped deer is no exception. In the summer, the antlers are still growing, by the fall and winter, the antlers will slowly become ossified and are just in time to be used in fighting. Every spring, the bucks and does will separate into different groups. The does go to give birth, and the bucks' antlers will also fall off during this time.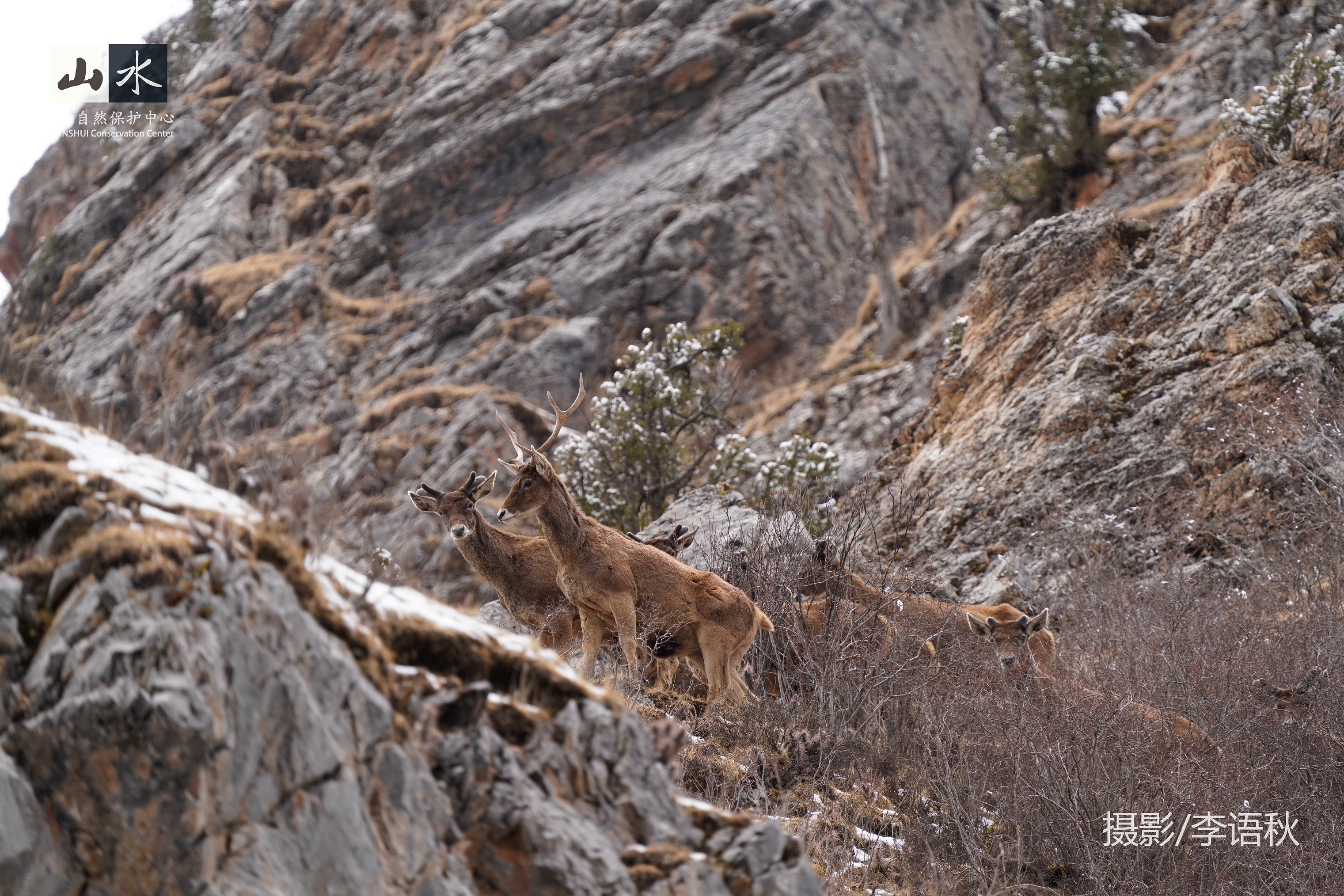 马麝 Musk Deer

(Moschus chrysogaster)
分类:偶蹄目 麝科

保护级别 :国家一级
体型数据:头体长80-90cm,体重9-13kg
麝看起来像鹿,但在进化上与鹿分歧较早。麝科动物和很多鹿科动物相比,雄性没有角,却有着长而锋利的"獠牙"。它们的前肢短于后肢,因而体型显得臀高于肩,这也是所有麝类物种的共有特征之一。马麝是麝科动物中体型较大者。从喉部开始有两条颜色较浅的污白色至污黄色纵纹,向下延伸至胸部相接。马麝两耳较大且长,远看就像一只肥硕的"大兔子"。
马麝在昂赛的晨昏时遇见率较高。马麝偏好活动于有灌木丛或针叶林的高原地区,也喜欢裸岩、流石滩,因此能适应昂赛地区的生态环境。主要取食草与灌木叶子,其食谱也包括苔藓和地衣。它们日常独来独往、羞怯机警,偏好晨昏活动。成年个体拥有固定的家域范围,其中雄性个体会使用其粪便和分泌物标记领地。在三江源,马麝被多种食肉动物捕食,包括豹、狼、赤狐、猞猁、黄喉貂等。
Classification: ARTIODACTYLA Moschidae
Protection Class:National Class I
Size: body length 80-90 cm, weight 9-13 kg. s
The moschidae looks like a deer, but diverged from it early during the evolution. In contrast to many deer (Cervidae family), males of the Moschidae family do not have horns, but have long, sharp "fangs". Their forelimbs are shorter than their hind limbs, making their body shape appear higher at the hip than at the shoulder, a characteristic common to all musk species. The musk deer is the larger of the Moschidae family. It has two lighter colored dirty white to dirty yellow longitudinal stripes starting at the throat and extending down to the thorax where they meet. The ears are large and long, resembling a big, fat rabbit from a distance.
The musk deer are more frequent sighted in the morning and evening in Angsai. The musk deer prefer highland areas with bushes or coniferous forests as well as bare rocks and screes, so they are well adapted to the ecological environment of the Angsai area. They mainly feed on grasses and shrub leaves, and occasionally mosses and lichens. They are solitary, shy and wary, preferring morning and evening activities. Musk deer have a fixed home range, with males using their droppings and secretions to mark their territory. In Sanjiangyuan, musk deer are preyed upon by a variety of predators, including leopards, wolves, red foxes, lynxes, yellow-throated martens, etc.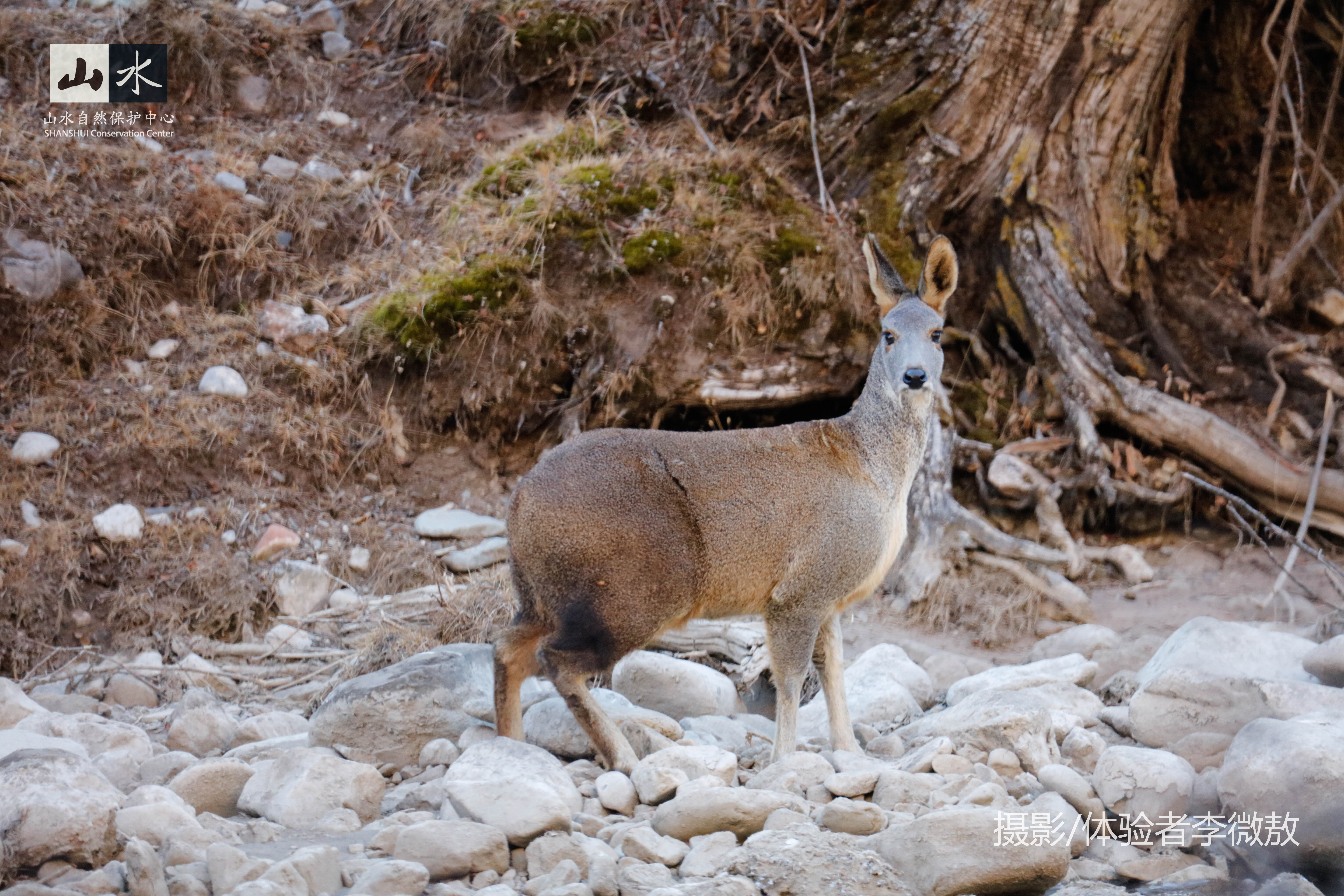 鼠兔 Pikas

高原鼠兔

Plateau Pika

(Ochotona curzoniae)川西鼠兔 Glover's Pika(Ochotona gloveri)
分类 Classification:兔形目 鼠兔科
保护级别 Protection level:无

体型数据:头体长140-200mm/160-250mm
鼠兔是鼠还是兔?其实只是一种长得像老鼠的兔子,也可以算得上世界上最小的兔子。昂赛的鼠兔有两种,川西鼠兔和高原鼠兔。川西鼠兔偏爱岩石,高原鼠兔偏爱草原。其中川西鼠兔多见于年都村的丹霞地貌区域。其红红的大耳朵和掺杂着红棕色的灰色背毛,都让它们的颜色很好地融入进了灰色和红色掺杂的岩石中。高原鼠兔在昂赛只有热情村的几家附近有分布,因为那里的草场比较平缓,也没有明显的丹霞地貌特征。在这里高原鼠兔比川西鼠兔更好隐蔽自己,也不需要像后者一样要学会攀爬岩石才能生存,只要会打洞并会贴着地跑就可以了。
在草场退化严重的地方,鼠兔经常被人们称为是祸害草场的元凶。当人们看到草场变差了,而鼠兔多起来了的时候总会觉得是这些鼠兔把草场啃没的。而事实是,人们把草场和鼠兔间的因果关系倒置了。当草场因为各种原因(如过度采挖、过度放牧、气候变化等原因)退化后,鼠兔便因为草地松软方便打洞而在此安家了。鼠兔被背上草原退化这个黑锅实属冤枉,其实它才是生态稳定的关键。鼠兔和旱獭一样承担着所有食肉动物的食物这一重要角色,从体型娇小的香鼬和艾鼬到两种大猫,无一不是吃着鼠兔长大的。
Classification: LAGOMORPHA Ochotonidae
Protection Class: N/A
Size: body length 140-200/160-250 mm
Is a pika a rodent or a lagomorph? It is actually just a type of lagomorph that looks like a rodent and can be considered the smallest lagomorph in the world. There are two types of pikas in the Angsai area, the Plateau pika and glover's pika. Glover's pika prefers rocks and plateau pika prefers grasslands. Among them, Glover's pikas are mostly found in the Danxia landform area of Niandu Village. Their large red ears and gray back fur mixed with reddish brown color both make them blend well into the gray and red mixed rocks. The plateau pika is only distributed near a few homes in the Reqing Village of Angsai because the pastures there are gentler and have no obvious Danxia landform features. Here the plateau pika can hide itself better than the Glover's pika, and does not need to learn to climb rocks to survive, as long as it can make holes and run close to the ground.
In places where pasture degradation is severe, pikas are often considered the culprits of the scourge and responsible for the loss of the meadows. The truth is that people have misunderstood the cause-and-effect relationship between pasture and pikas. When grasslands are degraded for various reasons (e.g. over-harvesting, over-grazing, climate change, etc.), pikas make their homes there because the land is soft and easy to burrow. The pikas are wrongly blamed for the degradation of grasslands, but they are actually the key to ecological stability. The pikas, like marmots, play an important role as food for all carnivores, from small skunks to the two big cat species.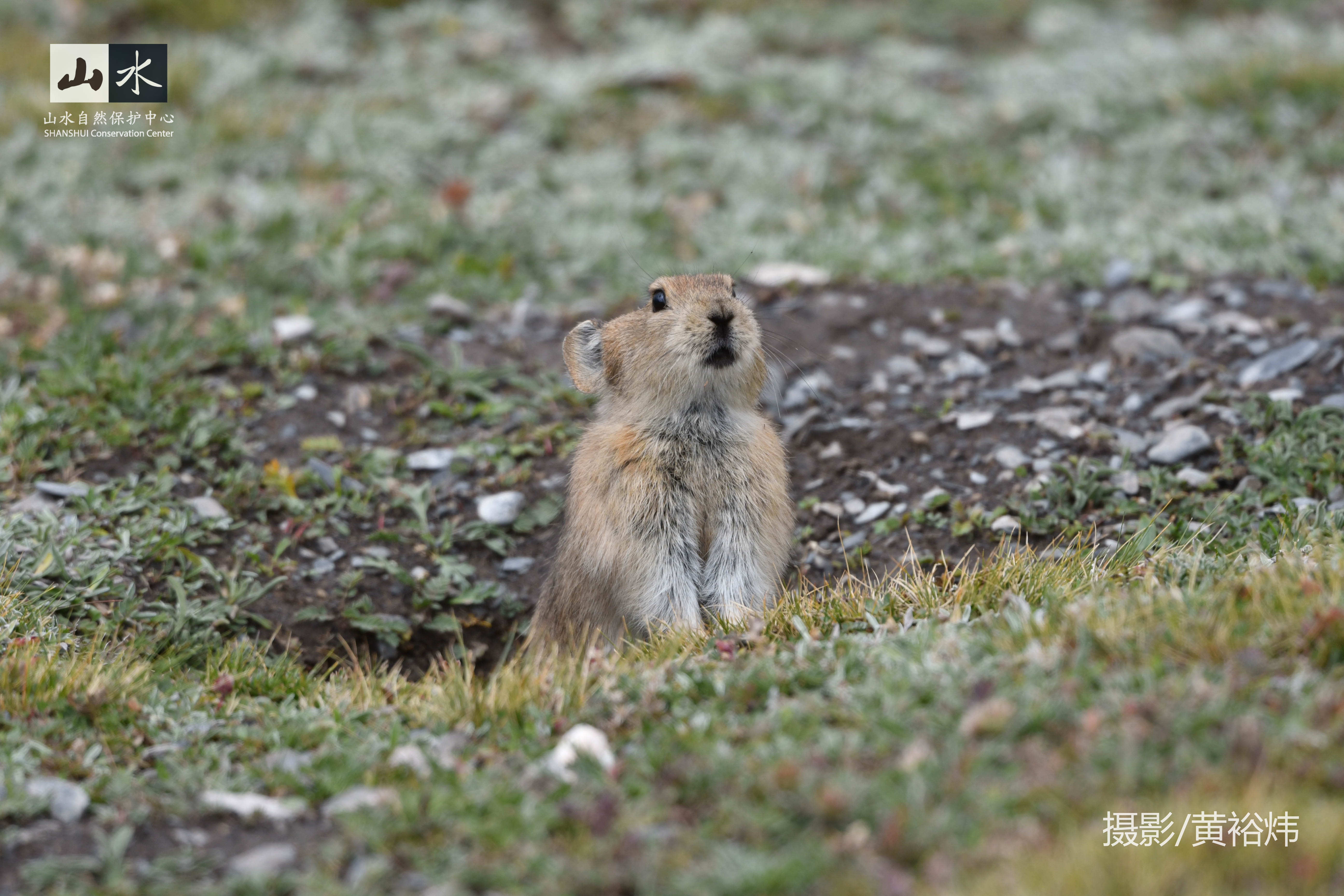 高原鼠兔 Plateau Pika(Ochotona curzoniae)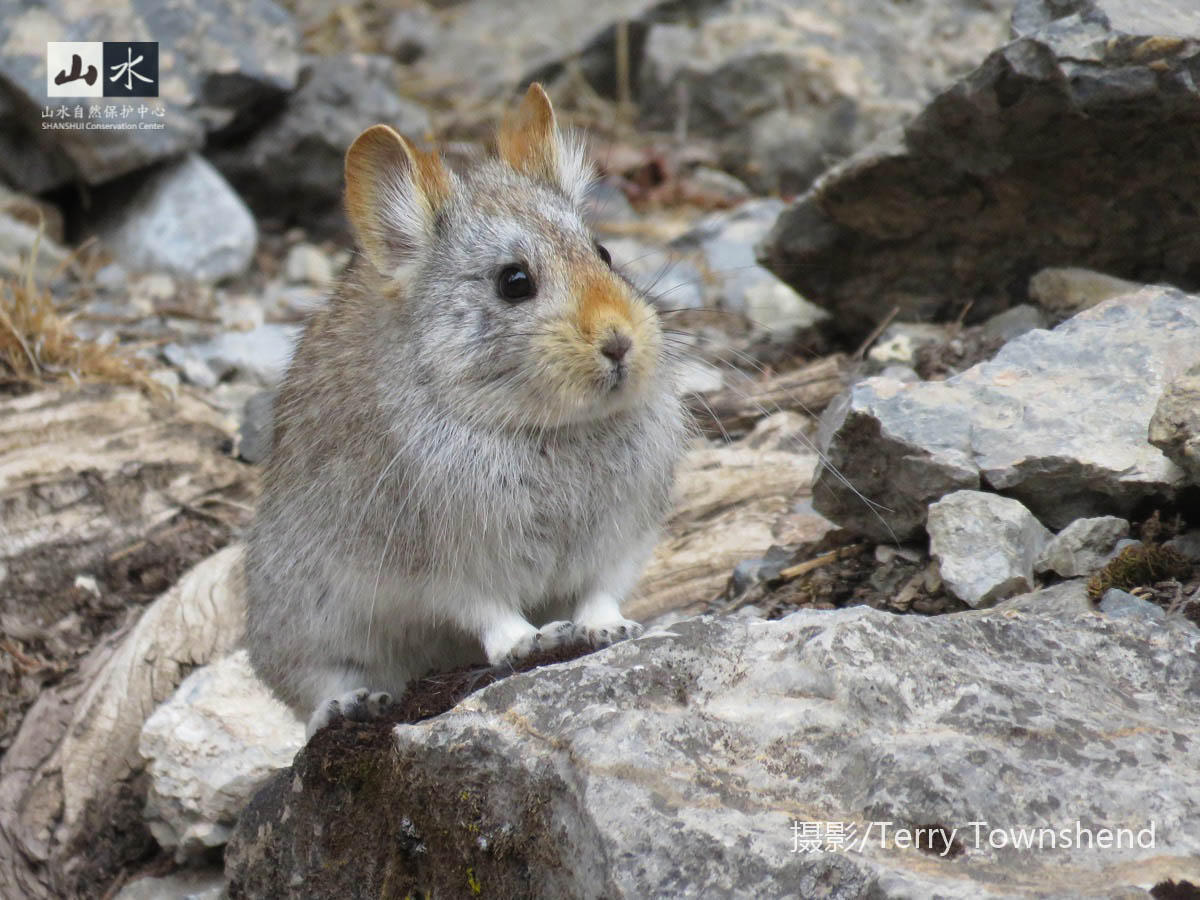 川西鼠兔 Glover's Pika(Ochotona gloveri)
喜马拉雅旱獭

Himalayan Marmot

(

Marmota himalayana)
分类 Classification:啮齿目 松鼠科
保护级别 Protection Class:无 N/A
体型数据:雄性个体身长在47-67厘米之间,雌性在45-52厘米之间;雄性个体的体重约6000克,雌性个体约5000克
可能很多人不熟悉旱獭,但土拨鼠一定人尽皆知。旱獭就是我们俗称的土拨鼠中的一个类群。旱獭是体型肥硕的啮齿动物,它们和松鼠亲缘关系极近,可以把其当做生活在地上的"地松鼠"。昂赛的旱獭是青藏高原广布的喜马拉雅旱獭,颜色从鲜赭黄色到赭黄红褐色。整个体背面浅黄色和黑色混杂。以禾本科、莎草科及豆科根、茎、叶为食,亦食小动物。
喜马拉雅旱獭也许是唯一一种在昂赛能保证遇见的物种(除了11月-2月冬眠时)。它们十分好找,有固定的洞穴,有坡的路边就有。在进昂赛的路上,当你看到路边一些个黄色的小土包开始滚动奔跑的时候,不用细看就知道是旱獭在狂奔了。不过,旱獭作为啮齿动物,是鼠疫的天然宿主之一,我们看到不怕人的旱獭或者旱獭尸体的时候,千万不要用手触摸。
Classification: RODENTIA Sciuridae
Protection Class: N/A
Size:male body length 47-67cm, female body length 45-52cm; male weight 6000g, female weight 5000g
Many people may not be familiar with marmots, but the groundhog must be known to all. Marmots are a group of what we commonly call groundhogs. They are large rodents that are so closely related to squirrels that they can be thought of as "ground squirrels." Marmots in Angsai are Himalayan marmots that are widespread on the Qinghai-Tibet Plateau and range in color from bright ochre yellow to ochre yellow-red-brown. The entire back of the body is a mixture of light yellow and black. It feeds on roots, stems and leaves of the grass, sedge and legume families, and also on small animals.
The Himalayan marmot is perhaps the only species that is guaranteed to be sighted in Angsai (except during the hibernation period from November-February). They are very easy to find: when you see little yellow bales on the side of the road that start rolling and running, you don't have to look very hard to know it's a marmot running wild. However, as a rodent, the marmot is one of the natural hosts of the plague, so you would not touch a marmot with hands.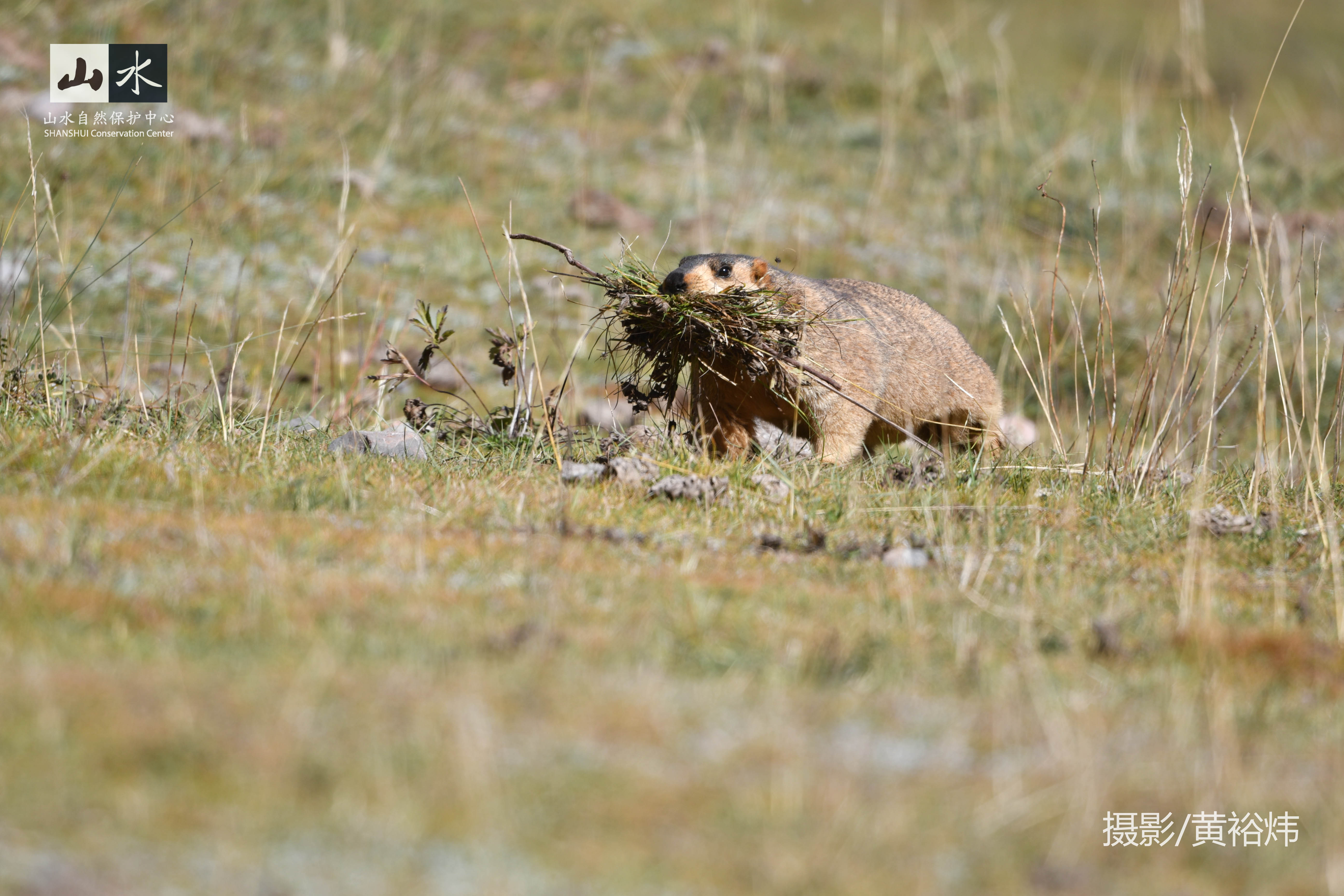 高原兔

Woolly Hare

(Lepus oiostolus)
分类 Classification:兔形目 兔科

保护级别 Protection Class:无 N/A
体型数据:体重2-4kg,体长在40-55cm之间
Classification: LAGOMORPHA Leporidae
Protection Class: N/A
Size: weight 2-4 kg, body length 40-55 cm
高原兔是中国野兔中体型最大者,广泛分布在青藏高原。亦称"灰尾兔",因为它们最大的特点就是臀部毛短、大体呈灰色。它们的毛厚实、底绒丰厚,可以抵御高原的严寒,因此英文称其为woolly hare。不过,它们和平原上的兔子最大的区别还是它凸出的眼睛。
行走在山上,你偶尔也会碰到一些惊慌失措的高原兔。它们也许是被突然出现的你吓了一跳,便开始了慌不择路的逃窜,比如,跳到你的面前或从你身边飞速穿过。有时它们也会突然僵住,以为这样你们就看不到它们了。高原兔喜欢生活在有灌木的平地,这也是猞猁常出没的场所。
The woolly hare is the largest of the Chinese hares and is widely distributed on the Qinghai-Tibet Plateau. They are also known as "gray-tailed hares" because their most distinctive feature is their short, mostly gray hips. Their thick fur and thick undercoat can withstand the cold of the plateau, but their biggest difference between them and hares on the plain is still their bulging eyes.
Walking in the mountains, you will occasionally encounter some panicked woolly hares. They may be startled by the sudden appearance of you, and then start to run away in a panic. Sometimes they may also freeze suddenly, thinking that you will not notice them. Woolly hares prefer to live in flat areas with shrubs, which are also places that lynx frequently appears.